Odense might be third in line when it comes to city breaks in Denmark (most people head straight for Copenhagen or Aarhus) but Hans Christian Andersen's hometown is now emerging from a bit of a facelift, and the city has a lot to offer people who want a get a feel for 'ordinary' Danish life.
Much is being done these days to give Odense a big city feel but it's still conveniently compact and wonderfully walkable. This makes it easy to explore on a budget, without the need to spend extra cash on getting around. There are also loads of free and cheap things to do, as this guide reveals. Use the menu below to hop to a section!
Historic sights and attractions
Fun and entertainment
Museum and galleries
Public art and architecture
Parks and nature
Excursions and day trips
Health and fitness
Window shopping
Eating and drinking

Historic sights and attractions
1) Get lost in the picture-perfect Hans Christian Andersen neighbourhood, just a five-minute walk south of the train station. Explore the cobbled streets here and you'll get fairytale feels without spending a single krone. It might seem like an open-air museum, but a few lucky locals actually live here (with the famous writer as their imaginary neighbour). To find this area, aim for the northeastern end of Hans Jensens Stræde.
2) Step further back in time nearby in Sankt Knuds Kirke (cathedral), which first opened its heavy doors back in 1499. Sankt Knud ruled as the King of Denmark from 1080 to 1086, when he was killed in the neighbouring church of Sankt Albani, but he was laid to rest in this cathedral, which was later named after him. Entry is free.
3) Grab a free city bike and pedal your way to Den Fynske Landsby, (The Funen Village) where you can walk through typical Funen countryside and get a feel for what life was like here in the 19th century. The entrance fee for this open-air museum is around 75 DKK (or 100 DKK in summer), while kids go free.
Fun and entertainment
4) Enjoy an evening of icy action and intense atmosphere inside Odense Isstadion, where local ice hockey club Odense Bulldogs take to the ice in the best Danish league. If you buy your ticket online you can get it for less than 100 DKK. Friday night games are especially popular, so go bark along with the friendly fans. The season runs from October to April.
5) Hide away at Papas Papbar on rainy days. This board game café has hundreds of games to choose from, allowing you to challenge your friends or family while drinking a latte or a local beer.
6) Lose yourself in colourful creations when Odense Blomsterfestival (the flower festival) turns the city centre into one big garden for a few days in the middle of August.

Museums and galleries
7) Drop in at Filosoffen, which is nestled on the banks of the Odense Å river. A free art venue, this place puts on new exhibitions every second week. The building includes a branch of the local coffee chain Nelles, with views out over the pedal boats that cruise down the river.
8) Get back on track at Danmarks Jernbanemuseum (the Danish railway museum), located just by the train station. Adult ticket prices are 80 DKK, but kids go free. Whether you're interested in Interrailing around Scandinavia or vintage stream trains, you'll be onto a winner here.
RECOMMENDED HOTELS IN ODENSEMORE HOTELS
9) Draw inspiration from the creative headquarters of Danish sculptor Jens Galschiøt, who is famous for taking on important social and environmental issues around the world. At Galleri Galschiøt, north of the city centre, it's free to visit his workshop, the gallery and the adjacent sculpture park. Bus #191 will take you there from Odense Station.
10) Discover the cultural hub of Brandts, which is housed in a former clothing factory. It's the centrepiece of Brandts Klædefabrik, an area known as Odense's very own latin quarter. With a permanent media museum and temporary exhibitions, this area can be explored for free on Thursdays between 5pm–9pm.
11) See how the Danes decorated their homes back in the day at Tidens Samling. This unusual museum lets you walk through Danish living rooms from different decades, from 1900 to the 1990s. As you discover designs from times gone by you'll inevitably ask: what where they thinking? The entrance fee here is just 50 DKK.
Public art and architecture
12) Go hunting for sculptures around the streets, squares and parks of Odense – many of them dedicated to Hans Christian Andersen.
13) Admire the city's street art and murals, like the giant animals at the harbour by the world-renowned artist ROA. You might also want to check out 'The Girl and the Panther' which wows visitors behind Brandts Museum in downtown Odense. Another good one for photos and Instagram snaps is the facade of Odense's award-winning Zoo, which is daubed with animals.
14) Stop by the gleamingly modern Odeon concert house. The cornerstone of the new up-and-coming area along Hans Mules Gade, it puts on loads of cultural shows and performances. Guided tours of the building can be booked, but it's free to check out much of it yourself.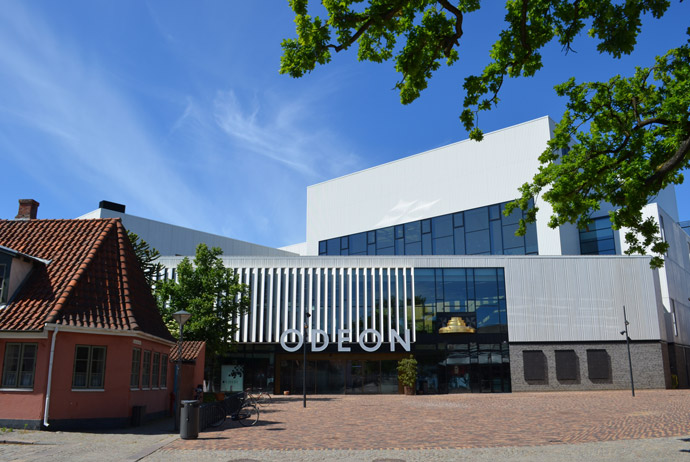 15) Google the town hall of Siena in Italy and compare it with the one in Odense. The resemblence in the architecture is striking and the town hall square, Flakhaven, is a nice place for a selfie.
16) Have a look inside Nordatlantisk Hus, which has quickly become a new architectural icon on the harbour front. A building dedicated to Denmark's connection with Iceland, Greenland and the Faroe Islands, it contains a restaurant, a gift shop and an art exhibition.
17) Look for the golden facade of Borgernes Hus (Citizens' House), next to the train station. Not only does this place help to keep the city running, it also houses a library and a cultural hub. This is a good place to find free wifi, read some newspapers or simply grab a cup of coffee. You might even find a free exhibition taking place during your visit. 
Parks and nature
18) Be welcomed by Kongens Have (The King's Garden) as soon as you arrive into the city by train or bus – this pretty park is just a few steps south of the main station. With the chalk-white Odense Slot (castle) in the background, its lush lawn provides the perfect place for locals to chill out on summer days. The park is also frequently used for big events, including the free concerts that take place every Thursday in July.
19) Rest your legs in picturesque surroundings just a stone's throw from the city hall. Eventyrhaven (The Fairytale Garden) doubles as a peaceful backyard park to Sankt Knuds Kirke and is home to a statue of – you guessed it – Hans Christian Andersen.
20) Follow the path along the river from downtown Odense and all the way to Fruens Bøge. This pretty, natural area combines a meadow, a lake (Skovsøen) and a lush green forest. On warm weekends locals head here for one thing in particular – mouthwatering ice cream cones from two famous outlets. Our tip? Go for the one with the thatched roof, where you'll get an extra scoop for free – as long as you don't want it topped with 'guf' (marshmallow fluff).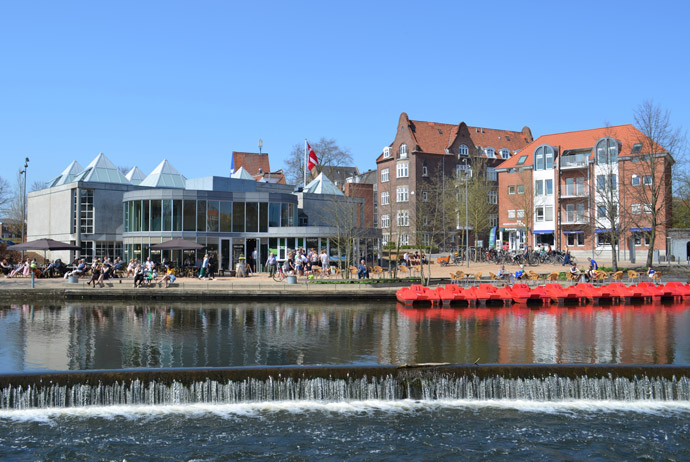 21) Kick back with the locals on the lawn of Munke Mose park, which hugs a bend in the river. On sunny days during spring and summer this is the perfect place to chill out and catch a few rays.
Excursions and day trips
22) Take bus #151 or #152 east to the coastal town of Kerteminde. This is a favourite day trip destination for locals, especially on summer days, when the sandy beach and the marina look just beautiful. Ice cream hotspot Vaffelhuset draws in waves of visitors.
23) See a jaw-droppingly handsome 460-year-old castle. Surrounded by water and carefully manicured gardens, Egeskov Castle is hands down one of the most beautiful places in Denmark. With public transport, the journey from Odense involves two bus rides (via Ringe) and a 10-minute walk. Entry costs around 190 DKK for adults.
Health and fitness
24) Jump into the cool blue water at Odense Havnebad (harbour bath) for free and practice your strokes. Beyond offering a free swimming pool, this transformed harbour area offers a ton of facilities to keep yourself fit including beach volleyball courts, a roller derby area and basketball courts. You can also play football or practice your parkour.
25) Tie your walking boots and head to Stige Ø, just north of city. A small peninsula that was created when the harbour canal was dug out in the 19th century, this is a tranquil, hilly area that's perfect for mountain biking, hiking or a bit of trail running. It's free to visit but easiest to get to by car.
Window shopping 
26) Stroll along the city's two retail arteries, Kongensgade and Vestergade, which are lined with Danish and international brand stores and popular cafés. This is a great place to feel the relaxed rhythm of the city (or go out for a few beers in the evening).
27) Step off Kongensgade and into the cobbled alley of Vintapperstræde. It's home to lots of charming cafés, bars and restaurants, as well as independent shops – perfect for souvenir hunting!
28) Extend your visit to the Hans Christian Andersen quarter with a walk up and down Overgade and Nedergade. Along these historic streets you'll find an interesting mix of specialty shops, cafés and half-timbered houses.
29) Travel back in time and get lost in it inside Kramboden in Nedergade. This nostalgia-soaked shop is full old kitchenware, toys, tools and things you never knew you needed. It's like a free historic museum.
30) Join locals on Wednesday and Saturday mornings at the fresh food market on Sorte Brødre Torv in the old town. This is a great place to buy fruit and vegetables, fresh fish and the Funen speciality of rygeost (smoked cheese).
Eating and drinking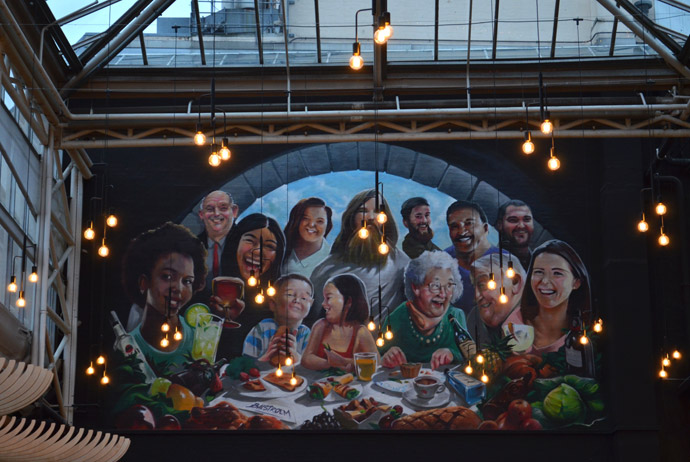 31) Take a seat and meet some locals at the Odeon Social café. Its innovative social dining concept has proved popular with locals and lets you enjoy daily dinners for around 90 DKK (kids' prices available).
32) Grab cheap and tasty food inside Storms Pakhus, near the harbour. Transformed from a disused warehouse in 2017, this is Odense's first proper street food market. Packed with food stalls, bars and cafés, you can eat well here for around 50–80 DKK. There's also a hairdresser, just in case you need one.
33) Make your around two floors of food at Arkaden Food Market in downtown Odense, where more than 20 stalls offer a wide range of exotic treats. Make your choice and enjoy it at the tables on the ground floor, next to the 12-meter-long bar. Meals start at around 60 DKK.
34) Enjoy a great cup of coffee without breaking the bank at the atmospheric Velodrom Kaffebar in the forest at Fruens Bøge (see above). This cycle-themed coffee house occupies a former train station, and does a good line in tasty cakes and snacks.
Don't forget your insurance
Denmark is a safe place to visit but even so, you need travel insurance for your trip. Having a good policy in place can make a world of difference if something goes wrong. For lots of different reasons, including the fact that they offer trip cancellation insurance, we recommend World Nomads. You can get a quote below, even if your trip has already started.
Pics: (c) Brian Schæfer Dreyer
Like what you've been reading? Get our best tips by email!