Piteå was originally located a few kilometres inland from its current location, close to where Öjebyn church town lies today. When that first settlement burnt to the ground in the late 1660s, locals picked up the pieces and moved the whole town southeast, closer to the open sea.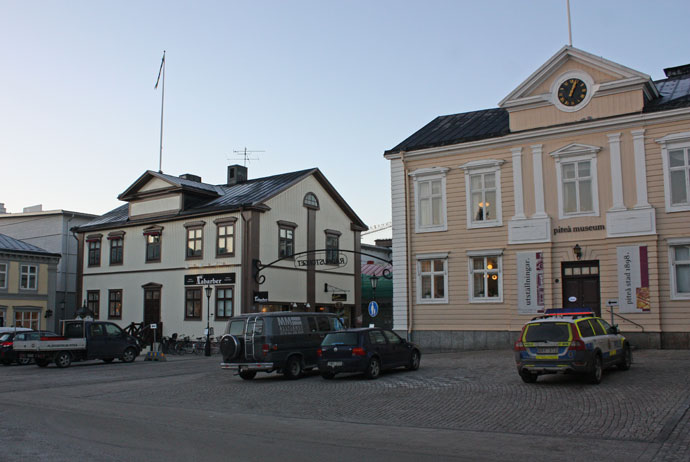 Rådhustorget was the new town centre's crowning glory – it was its main square and meeting place, edged by fine wooden buildings, including a handsome new town hall.
It wasn't to last. The new version of Piteå was also destroyed by fire when the Russians attacked in 1721, leaving only the church undamaged. Rådhustorget was eventually rebuilt in its original 17th Century style, however, and the little cobbled square hasn't changed a huge amount since.
It's very small, but still nice for a look around, especially in the run up to Christmas when a huge tree is plonked in the middle. The former town hall in the square's northern corner is now open to the public as Piteå Museum. If you fancy having a look then do; it's free to go inside.
Piteå's main street, Storgatan, is connected to the square. You'll find a few nice places to fika in the immediate area.
Fun fact: Rådhustorget is one of only two remaining town squares in Sweden that has closed corners (the other one is in Uppsala).
Rådhustorget
Piteå
Always open
Last updated: May 2015
Like what you've been reading? Get our best tips by email!