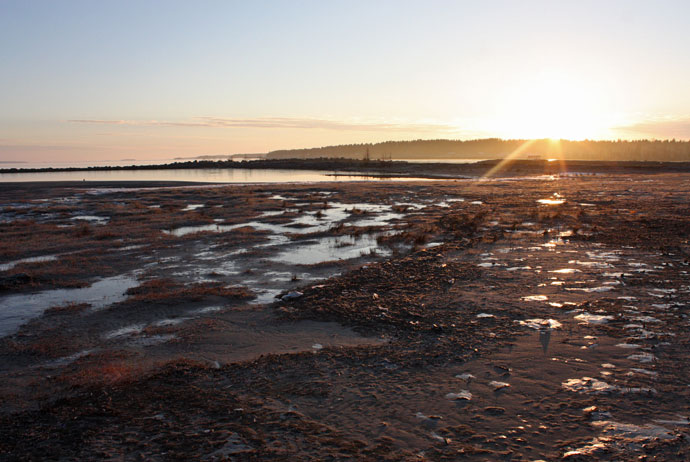 Piteå travel guide
Piteå (pronounced pee-tee-oh) is a small, handsome town surrounded by seemingly endless amounts of water. With the island-speckled Gulf of Bothnia on one side and a fissured landscape of lakes and rivers on the other, it's become a popular getaway for Swedes – especially during summer, when the days are long and temperatures in this part of northern Sweden regularly hit 20c.
At other times of the year the elements can be less welcoming, with powerful gusts pushing snow and sleet into the streets from every imaginable angle. This blustery weather will soon be exploited by the series of interconnected wind farms being built in the countryside just west of town. Financial worries have slowed progress but it's expected that by 2020, this will be the biggest wind farm in all of Europe with more than 1100 turbines.
Piteå itself is a handy stop on the long road that follows the Bothnian Coast north towards Luleå (the E4). Few foreign tourists seem to stick around for much longer than a single night, but those who do will find plenty of fun stuff to see and do.
In July and August, boat taxis make regular trips out into the archipelago that lies just offshore. It's home to more than 500 islands and some vast beaches which, although only really warm for just a few weeks each year, are spotlessly clean and ideal for a bit of swimming. Otherwise, depending on the time of year, there are possibilities for dog sledding, fishing and hiking, though you'll need to hook up with a local guide if you really want to explore the countryside around here; tourism infrastructure is quite limited.
Arriving into Piteå, the main choice is whether you base yourself in the centre of town or at Pite Havsbad, a popular beach resort around 10km south, where you'll find two beautiful sweeps of orange sand backed by tall pine trees – not to mention a huge indoor swimming pool with a terrace that's lit by artificial sunlight.
Staying in the town centre is probably the easiest option if you're using public transport to get around, and there are a couple of decent accommodation options to choose from. You'll also find one or two good places to eat, but you shouldn't go expecting too much – this is a fairly traditional community that still hasn't really caught the big-city buzz.
That's really all part of Piteå's charm, though. The historic centre is a nice place to fika, and is home to a couple of small museums – one focusing on the town itself and another dedicated to the boats used by people who carved out a living (and fed local people) by fishing along the coastline.
The only big sight in the area is Öjeby Kyrkstad, a traditional 'church town' just to the northwest of Piteå. The white stone-built church here sits among streets of coppery-brown cottages that once housed pilgrims visiting from rural villages.