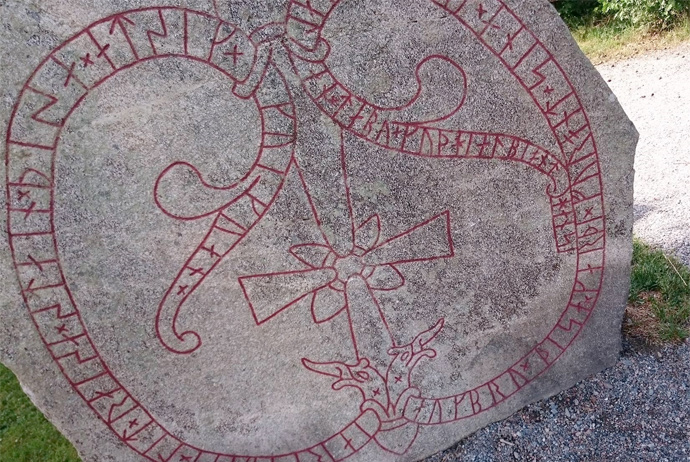 ✓  5-hour tour from Stockholm
✓  Expert guide
✓  Available on Tuesdays and Saturdays
✓  Free pick up (see below)
✓  Suitable for up to 12 participants
✓  $127 per person
See Viking history up close during this 5-hour history tour from Stockholm, led by a knowledgable local guide.
During the tour you'll learn about the Swedes who lived before the Vikings and their impact on Scandinavian history. You'll also visit the Vada burial mounds, Jarlabanke's Bridge and Vallentuna Church.
You will even have the chance to look at (and touch) some ancient rune stones and hear stories about the Vikings, including the great Viking woman Estrid and the all-powerful lord Jarlabanke. Transportation from a meeting point in central Stockholm is included.
What to expect
The day starts when you depart from your accommodation in Stockholm at around 9am in the morning in a comfortable car or minivan, depending on the size of the group.
You'll soon travel into the picturesque Swedish countryside and sweep through the lovely landscape – you may catch a glimpse of some traditional red Swedish houses along the way.
The first stop is the Vada burial mounds. These enormous 30-metre-long mounds are thought to hold treasures from the 6th century. Here you can also learn about the Vendel Swedes, the ancestors of the Viking Swedes.
What others say:
The guide was great… full of information and very witty. He really brings the subject alive. We went to several different places and had a nice lunch, so it was planned out well. We loved him and his other guide who told us a lot of details about runes. I am glad we found that tour on your site!
– Alice M, travelled June 2017
Next you'll journey on toward Vallentuna Church on a pretty countryside road and stop at the Lingsberg England runestone and hear about Viking plundering in England. At Vallentuna church you will see one of the most famous runestones in the Stockholm region and hear the story hidden beneath the runes.
Next, you'll visit a Viking parliament to feel the presence of ancient power – it's easy to imagine the Viking men sitting in the parliament making important decisions. Other highlights include Jarlabankes runestone bridge in Täby, and Broby Bro, a well excavated Viking grave field. Here you will learn how the Vikings buried their dead and what happened to them in the afterlife, before heading back to Stockholm.
Important information
Children aged 11 and under go free. During this tour you'll spend time outside, so dress appropriately for the weather and wear comfortable shoes.
Inclusions
– Pick-up and drop-off from your hotel (central Stockholm only) or the Central Station in Norrmalm. If a private tour is booked, pick ups can be arranged from other points within 5km of the Central Station.
– Alternatively, pick ups from Stockholm's cruise ports are included. Provide us with the name of the ship after booking and we will send instructions for the pick up. On public tours we do not guarantee pick ups from Nynäshamn port, which is an hour's drive away. However, this is included with private tours.
– Swedish cinnamon bun
– A taste of Viking-inspired mead
Exclusions
Souvenirs and gratuities (both optional) are not included. 

By submitting a tour request on this site you agree to be bound by our terms and conditions

Questions? Want to make a special request? Send us a message now!