Getting to Gällivare
Take a quick glance at the map and it seems like Gällivare is stuck in the middle of nowhere, with no easy transport links. But amazingly, this small Arctic town is served by regular bus and train services, and even has its own airport served by commercial flights from Stockholm.

By air
Gällivare Airport (sometimes called Lapland Airport) is a ten-minute drive east of the town centre. Little more than a metal shed with a runway, the airport is served by regular NextJet flights from Stockholm Arlanda. There are also NextJet flights from Kramfors, halfway up Sweden's east coast.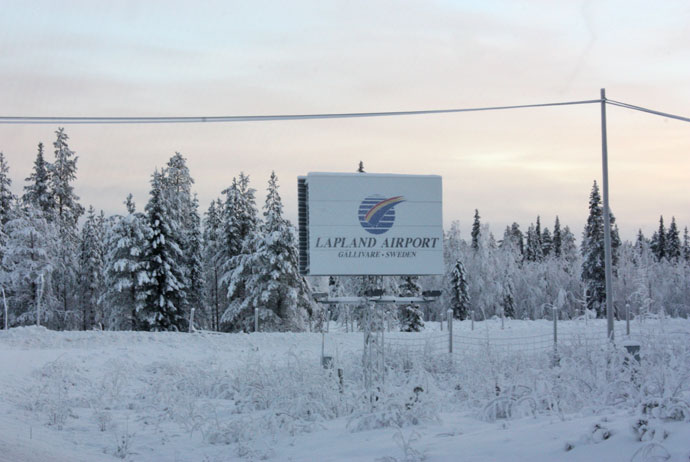 The airport has car rental desks run by Avis, Hertz and Europcar. There is no dedicated airport bus in Gällivare, but there's a chance you'll be able to catch a public bus into town. The number 10 service, operated by Länstrafiken Norrbotten, runs along the main road outside Gällivare airport (E45) a few times per day. It's a long walk from the airport out to the main road, however, and even if you manage to time it right, there's no guarantee the bus driver will stop for you.
A much safer and more reliable option is to grab a taxi. Gällivare Taxi has cars at the airport and will run you into town for 500 SEK. If you're travelling alone or as a couple, it may be possible to team up with other passengers and pay a per-person rate for the taxi to Gällivare from the airport – usually it's 179 SEK each.
By train
During the summer, there's no better way to arrive in Gällivare than aboard the Inlandsbanan railway. This service, which starts in Kristinehamn, passes some of the most beautiful scenery in Sweden. Unfortunately the northern end of the route up to Gällivare is only open for a short period of time each year – generally mid-June to mid-August.
You can buy tickets and see up-to-date timetables on the Inlandsbanan website. Interrail and Eurail passes are valid but it's worth paying a little extra (currently 50 SEK per day) for a seat reservation. If you don't do this, there's a chance you'll have to stand up – not a great idea on what is potentially a very long journey.
Outside of summertime, the Inlandsbanan route to Gällivare is closed. However, trains from Kiruna and Luleå run all year round, pulling into the same train station off Centralplan, near the south of town.
If you want to get to Gällivare from Stockholm, the easiest option is to take the Arctic Circle night train, which leaves Stockholm Central in the evening and arrives in Gällivare around 16 hours later. Tickets are available at SJ.se.
By bus
If you're coming from elsewhere in Lapland, buses provide the most reliable way of getting to Gällivare – especially during winter, when heavy snowfalls can affect train traffic.
Buses from across Lapland and central Sweden stop outside the train station near the southern edge of Gällivare, where you'll find a warm waiting area and the local tourist information office. Services from Jokkmokk, Luleå, Östersund and Kiruna all stop here. To check timetables and prices, head to the Länstrafiken Norrbotten website.

By car
The main roads around Gällivare – the E45 and E10 – are well cared for, but can be dangerous in winter. Allow yourself plenty of time and keep your eyes peeled for icy patches and wild animals – reindeer often hang out by the roadside. Free parking bays are relatively easy to find in Gällivare, even in the town centre. You can hire cars at the airport.
Last updated: March 2015