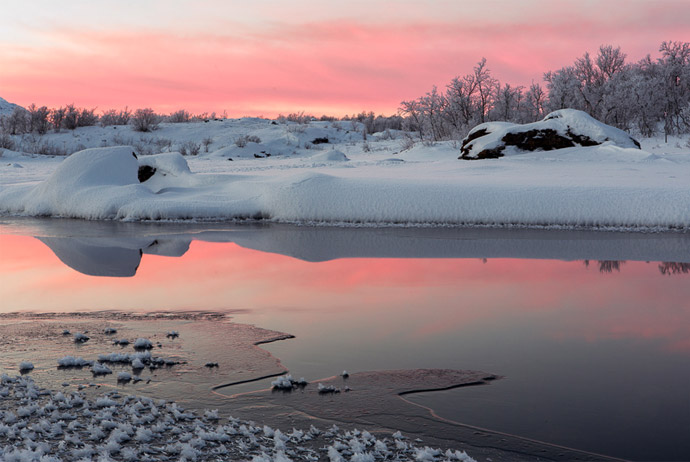 ✓  Expert guides
✓  Max 4 people per guide
✓  Improve your photography skills
✓  Tour duration: 4 hours
✓  Focused around your needs
✓  From per personThis fun landscape photography course takes place near Abisko, in one of the most beautiful parts of Swedish Lapland. The tour is focused on improving your photography skills and can be tailored to your needs and the kinds of things you'd like to shoot.
The session will start with a meeting at the STF Abisko Turiststation to assess what you would like to learn (this can also be done via email before your tour). Then your professional guide will take you to a number of stunning locations chosen to match the type of photographs you would like to capture.
The sessions can cover everything from basic camera skills to more advanced photographic disciplines. Here are some of the things the guide is able to cover with you. All of the sessions are fully customisable to your needs.
Basic camera skills
Learn the relationship between shutter speed, aperture and ISO, and how to adapt settings for the subject and the situation.
Composition
Compose your images like a pro and learn how different focal lengths affect the composition by changing the scale of the background. Learn how to approach a scene and how changing position or tripod height can affect the final shot.
Get to know your equipment
Learn how to get the most out of your camera and lenses. Learn how to use the customisable settings on your SLR so that can check the sharpness of your images quickly. Check that you have all the relevant data in RAW images so that you can get the most out of post processing your images.
Focusing
Ensure you get pin-sharp shots from front to back. Learn how to use hyper-focal focusing through live view and the depth of field preview. Understand how to maximise your chances of capturing action and fast-moving subjects.
Macro photography
How to get macro shots of ice crystals, Arctic lichens and intimate landscapes. Learn how to compose and get the critical focus point on macro shots. Learn how to stack several images to increase your depth of field.
The locations
Abisko National Park is one of the most exotic and accessible Arctic wildernesses in Lapland. The different locations listed below are all possible to visit on this tour. Locations will be selected depending on the conditions and what you want to get out of the session.
The shoreline of Torneträsk
A fantastic location providing many opportunities for landscape and macro photography. There are incredible views of the iconic mountain Lapporten across the lake, plus beautiful rocks and trees covered in icicles. Of course you can also shoot the lake itself, which can change daily from calm to wild with waves and spray through to frozen with beautiful ice formations, depending on the conditions.
The Arctic birch forest
This forest is amazing, thanks to its snow-covered birch trees, frozen lakes and wide vistas of the mountains. Looking in more detail, beautiful lichens can be found alongside intricate ice formations. Many animal prints can be found and if you are lucky wildlife can be seen.
The Abisko River Canyon
Close to Abisko Turiststation is a beautiful canyon with icy walls and great leading lines, making it a perfect place to talk about and practice composition and focusing in complex situations.
The trail head to Vadvetjåkka National Park
This area provides excellent opportunities to photograph reindeer and moose. It's also an amazing landscape with frozen lakes, gently flowing rivers and trees that are often covered in haw frost.
Exclusions
Camera gear
Travel insurance (we recommend getting cover with our preferred partner World Nomads).

By submitting a tour request on this site you agree to be bound by our terms and conditions

Questions? Want to make a special request? Send us a message now!