Unless you're hoping for snow, July is the absolute best time of year to visit Sweden. The days seem amazingly long and in the northern reaches of the country, the sun barely sets at all. Even in the south of the country proper darkness is replaced by a lovely twilight, with the sky glowing deep blue for a couple of hours before the sun rises again.
In terms of air temperature, July is Sweden's warmest month. Temperatures regularly hit 25c and may even edge up towards 30c, opening up a whole load of possibilities for outdoor activities that are off limits at other times of the year, most notably swimming – in cool lakes, off mainland beaches, or out among the islands off Stockholm and Gothenburg.
Stockholm
The weather in Sweden in July is ideal for sightseeing, and Stockholm is no exception. The average daily high in the Swedish capital is around 20c and although July is a relatively rainy month for this part of Sweden, it's unlikely you'll spend much time under the umbrella. Evenings can still be cool, so bring a light jacket.
Gothenburg
Gothenburg's usually blustery weather calms down a lot during July, with plenty of warm dry days and mild evenings. July is the ideal time for a trip out into the Gothenburg Archipelago, where you'll find smooth rocky beaches leading to surprisingly warm water.
Central Sweden
The central parts of Sweden, roughly between Stockholm and Östersund, can be just as warm as southern areas in July, with ever-so-slightly longer days. The lakes and forest come alive as city-dwelling Swedes head for summer houses in the country.
Lapland and the North
July can even bring warm-ish days to Sweden's far northern reaches, where temperatures can hit 20c. East coast settlements like Luleå, Skellefteå and Umeå tend to be warmer than places near the Norwegian border, where it can still be pretty fresh. Above the Arctic Circle, temperatures of around 8c are typical in July.
Average temperatures in Sweden in July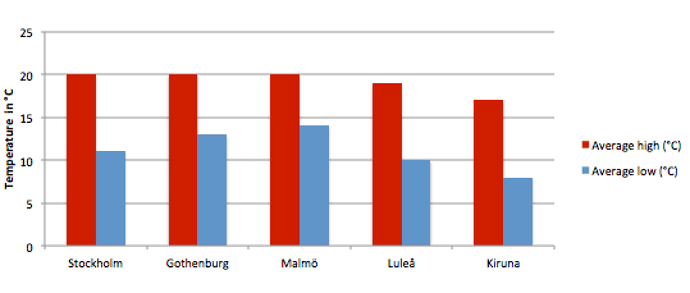 Average precipitation in July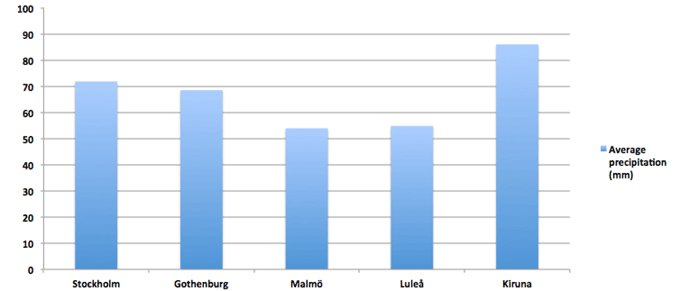 Hours of daylight in Sweden in July
Avg hours of daylight
17hr 52min
Avg hours of daylight
17hr 26min
Sunrise
04:45
Sunset
21:42
Avg hours of daylight
16hr 57min
Sunrise
02:15
Sunset
22:56
Avg hours of daylight
20hr 40min
Avg hours of daylight
24hr 
Get more advice on planning your trip to Sweden or head straight to our destination guides.
Like what you've been reading? Get our best tips by email!