Whale-watching is one of the highlights of any trip to Norway, and at the right time of year you've got a 95 percent chance of seeing one of the magnificent creatures if you go on a whale safari.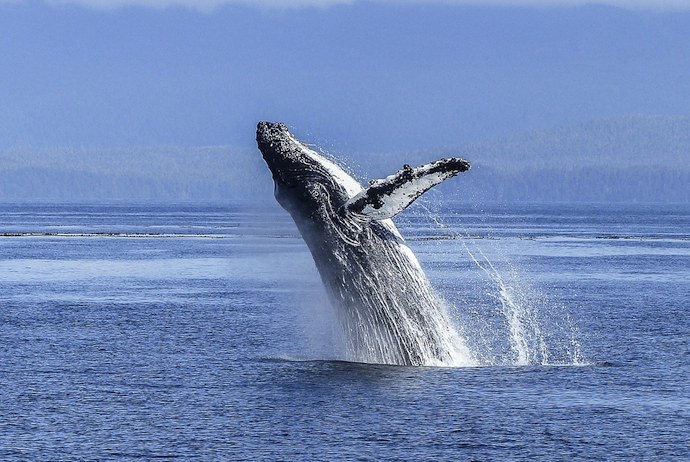 Indeed some operators are so confident that you'll see whales that they'll refund your ticket price if the sea mammals don't appear.
So, where and when is the best place to go whale-watching in Norway? Which species can you see and which are the best companies to go with?
Read our guide and find out! Or head to the bottom of the page to see our round-up of the best whale watching trips in Norway.
When is the best time to go on a whale safari in Norway?
The official whale-watching season runs from the end of October to mid-January, and during these months you are pretty much guaranteed a sighting.
There are numerous guided trips at this time of year, including this 'silent' whale watching trip from Tromsø, or this full-day luxury yacht tour.
However, humpbacks are usually present off the coast of Norway until the end of March, so there's a reasonable chance of seeing them then too, especially in the more sheltered waters around the fjords.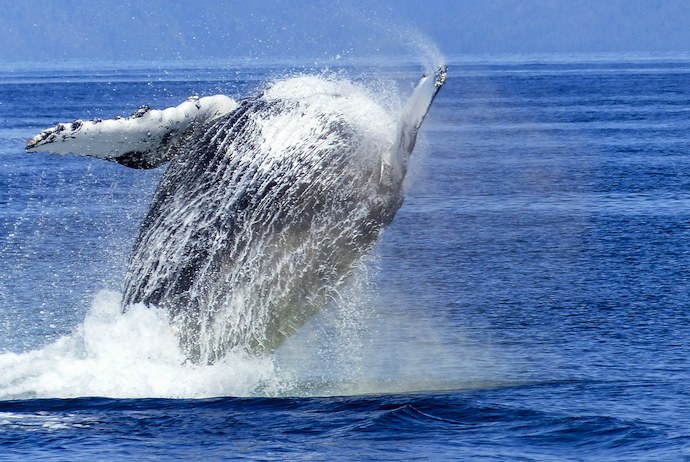 From the end of May to September, orcas (killer whales) and porpoises can be seen around the coast and inlets of the Lofoten islands.
Which whales can I see and when?
| | |
| --- | --- |
| Type of whale | When you can see them |
| Pilot whales | October to mid-January (plus June to August in Andenes) |
| Minke | October to mid-January (plus June to August in Andenes) |
| Sperm whales | October to mid-January (plus June to August in Andenes) |
| Orcas | October to mid-January (plus May to September in the Lofoten and Vesterålen) |
| Humpbacks | October to March (plus May to September in the Lofoten and Vesterålen) |
| Porpoises | Year-round |
Where is the best place to go whale-watching in Norway?
Andenes on the island of Andøya is well-known for its whale safaris, such as this amazing RIB trip to spot orcas, sperm whales and dolphins.
These trips explore the waters of the Vesterålen islands and offer a high probability of seeing whales in the wild.
Sperm whales are the most common type of whale around these waters, but other species such as orcas, pilot whales, humpbacks and fin whales can also be seen at certain times of the year.
The whale-watching season here is long with boats heading out for the summer season from the end of May to mid-September. The winter whale-watching season running from early December to late March.
The frequency of the whale safaris depends on the time of year, with fewer boats running at the beginning and end of the seasons (sometimes only 2 a week), up to about four trips a day in peak summer.
What should you expect on a whale-watching trip in Norway?
Hvalsafari As is one of the most respected and long-established whale boat operators, and has been running whale safaris out of Andenes for more than 30 years.
Trips here begin with a 45-minute visit to its museum to learn about marine mammal ecology, the different species of whale and their environment.
Most of its informative guides have a marine biology background and are multi-lingual.
The boats take around 40 minute to reach the whales, though obviously this can be shorter or longer, as whales move quickly and do not stay in the same place.
The overall length of the safari varies from two to four and a half hours, depending on how far out to sea the whales are and how long it takes to find them.
All the safari boats have an indoor lounge, but it can be incredibly cold out on the water, especially in winter, so you're advised to always wear warm clothing. Also, bear in mind that the boats can't go out in all weathers.
If seas are rough and conditions poor the boats won't be able to go out.
So if you're coming specifically to do a whale safari in winter, make sure you build a few days' leeway into your trip, in case the weather is poor and the safari has to be postponed or cancelled.
Are whale safaris ethical?
This very much depends on the operator you go with. A reputable operator will follow the guidelines recommended by the Whale and Dolphin Conservation Society and the IWC (International Whaling Commission).
When lots of boats approach the whales and follow them, it can disturb the animals, while noise from the boats can interfere with the whales' hearing and communication.
Getting too near or going in the middle of the pod also upsets the animals. And, of course, any form of boat travel contributes to marine pollution and greenhouse gas emissions.
The best option, if possible, is to opt for a silent electric catamaran tour, such as this one that minimises disturbance to the wildlife.
On the plus side, whale tourism provides a financial motivation for protecting the whales and ensuring their welfare.
This is particularly important in Norway, since it's one of only two countries in the world (along with Japan) where commercial whaling is still legal and practised.
So, if you want to go on a whale safari, chose your operator carefully – ask how many boats approach the whales, how close they get and what the operator's attitude is to conservation and animal welfare.
Check that the boats always approach the whales from behind, keep an appropriate distance and reduce their speed as they near the animals.
Can you see whales from the land in Norway?
Whales generally stay out to sea, though they sometimes venture into the inlets and close to the shoreline of the Vesterålen and Lofoten islands.
If you're lucky, you may spot them from land. Andenes, in the far northern tip of the Lofoten islands is one of the best places to see whales from the land, and a new museum there has viewing platforms and information about the majestic creatures.
Architecturally impressive, The Whale museum sits right on the seashore, with huge glass windows overlooking the sea and a roof that's designed to look like a whale's tail. 
You can wander over the top of the roof, which doubles as a viewing platform looking out to sea, and there are trails along the coast leading to platforms, viewpoints and a tidal pool.
The museum's construction was delayed by the discovery of what is thought to be Norway's largest Viking settlement beneath the site: check the website for the latest news.
Do whales swim into the fjords?
Often around the middle of January whales migrate south from Lofoten and bask around the entrance to the fjords until the end of March.
They rarely come into the fjords themselves, but if you are lucky you may spot them out at sea. 
How much do whale watching tours usually cost?
Prices vary depending on where you coming from and how long the trip is. A three-hour trip from Andenes, for example, costs around 1450 NOK (US $140).
If your trip includes a coach transfer from Svolvær, it's likely to cost around 3500 NOK (US $335) for the boat and coach trip.
For a full-day trip from Tromsø by boat, you can expect to pay around 1880 NOK (US $180).
Some tours combine whale watching with other activities like seeing the northern lights – and these tend to be pricier.
This four-day whale and northern lights trip costs a hefty 22,440 NOK (US $2160), though this does include all meals and accommodation.
Recommended whale watching trips
There are loads of different options when it comes to whale watching in Norway, with trips running from various places along the Norwegian coast, such as Andenes, Tromsø, Svolvær and Alta.
Whichever operator you choose, make sure you ask the right questions about your safari beforehand to ensure it's an ethical tour. Here are some recommended options:
Whale safari on an eco-friendly hybrid catamaran
One of the more ethical options, this hybrid catamaran running out of Tromsø switches to a silent electric engine as it approaches the whales, so that they are not disturbed.
It also has an underwater drone and hydrophone that can detect where the whales are and send pictures and sounds back up to the boats, without disturbing the animals.
Polar whale and sea bird safari
This full-day safari leaves from Tromsø and heads north to Skjervøy in search of orcas and humpback whales. En route, you can also look out flying wildlife such as sea eagles, gulls, cormorants and eider ducks.
Whale safari and RIB tour
You'll have to get up early for this full-day tour from Tromsø – the bus leaves at 5.30am and heads to Skjervøy on a four-hour journey through stunning fjord scenery.
Once you're in Skjervøy, you'll don super warm floatation suits and pick up a high-speed RIB to search for the orcas and humpbacks, who regularly bask in these waters.
See whales and the northern lights by yacht
This bucket-list four-day catamaran trip sails round the waters of northern Norway in search of whales and the northern lights.
The luxury Arctic Princess sails past stunning mountain and fjord scenery docking in tiny fishing villages and, because it's so quiet, it doesn't disturb the wildlife.
You'll have your own private skipper and all meals are provided – you even get the chance to catch fish from the sea for your dinner.
Go whale-watching by catamaran
The spacious MS Gabrielle takes you directly from Tromsø to Skjervøy over the sea, so you don't need a lengthy coach transfer. 
Large enough to be stable even in rough seas, it's fast and comfortable, so can get you to where the whales are quickly. And if you don't see any, you get another trip for free.
See orcas, sperm whales and dolphins in the Lofoten islands
This full-day trip takes you from Svolvær by bus to the pretty village of Andenes, where you'll board a RIB and head out into the waters to the north the Lofoten Islands.
The coach journey itself is spectacular along National Scenic Route 18, which laces around scenic inlets, across islands and over connecting bridges to arrive at beautiful Andenes.
See also:
Ten of the best fjords in Norway
Nine amazing islands in northern Norway
Norway's best national parks