Gällivare has a couple of very good places to stay, but it still hasn't really hit the big-time with foreign tourists in the same way as Kiruna, the other big mining town in the far north of Sweden.
However, a lot of the outdoor activities that draw people to Kiruna are also on offer here. Gällivare has the additional benefit of being right beside an excellent ski resort, which has some good accommodation, along with family friendly slopes for beginners (and even a few black runs for more experienced skiers and snowboarders).
Here are some suggestions for things to do when you're in Gällivare. Some of these activities are only possible in winter; others are summer only.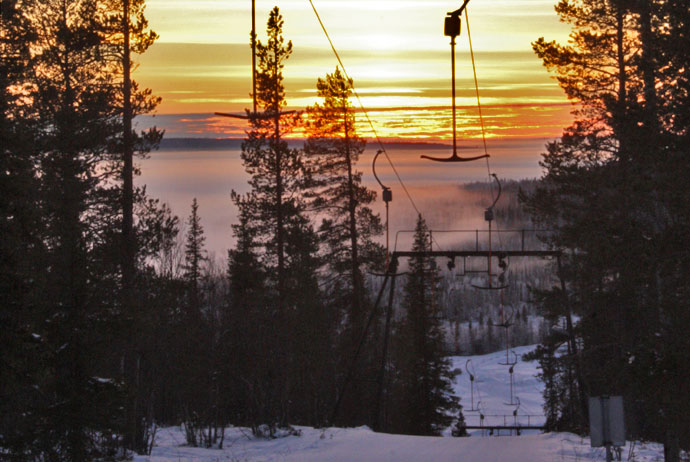 Winter activities in and around Gällivare
Skiing
Skiing at the Dundret Ski Resort is usually possible from late October to the very start of May – a pretty long season, but bear in mind that the dead of winter is extremely cold, not to mention rather dark (though floodlights illuminate the slopes when necessary).
The resort itself is well equipped, with five lifts, a snow park, and a good mix of green, blue, red and black runs. There are also a few cross-country skiing tracks, including a 50km-long route that stretches around the base of the mountain. Even if you're not planning to ski or snowboard, the resort makes a scenic place to spend the night.
Dog sledding
A couple of independent companies offer dog-sled tours around Gällivare, with rates generally lower than those charged at tourist hotels. Even if you book direct with these companies, dog sledding is hardly a steal: expect to pay around 1000 SEK per person for an hour-long tour, and be sure to do your research first – our guide to dog sledding in Sweden has tips on choosing the right tour.
Snow scooter tours
It's a lot noisier than dog sledding, but bombing across a frozen lake on a snow scooter is every bit as fun as it sounds. The local tourist office will be able to hook you up with a guide – otherwise, ask at your hotel. Two people can usually share one scooter, taking it in turns to drive. The prices for snow scooter trips around Gällivare normally start at around 900 SEK per person for a full day including lunch.
See the northern lights
The long nights of winter mean there's an increased chance of seeing the northern lights, and Gällivare gets frequent displays. Don't bother paying to go on an northern lights safari unless you're really interested in learning more about the phenomenon; if there's activity overhead, just get yourself far away from sources of artificial light and you shouldn't have any trouble seeing the lights (unless it's cloudy, of course).
Things to do in summer
See the midnight sun
Gällivare is far enough north that the midnight sun is visible for 40 days in a row, roughly from the start of June until the second week in July. During this time the sun never really sets – you'll see it sink down towards the horizon around midnight, but it never disappears completely.
For the best views, aim to get yourself up high. The car park at the Dundret Ski Resort has amazing views. If you fancy it, you can head up to the café at the top of the mountain (it's called Fjällstugan), which sells waffles and coffee and stays open late during the midnight sun season.
Ride the Inlandsbanan
The train line that cuts a north-south line through the centre of Sweden, the Inlandsbanan, makes its final stop in Gällivare. This northernmost section of the line is only open during the summer, from mid-June to early August.
You could ride the entire line south through Dalarna and on to Kristinehamn, but that's a bit of a slog; the total journey covers more than 1,200km. A more practical option for a day trip from Gällivare is to take the Inlandsbanan to Jokkmokk, around two hours south. You can spend the day looking around the town's museums and craft shops and then head back to Gällivare in the evening – see the Inlandsbanan website for current timetables.
Mine tours
The state-run mining company LKAB runs tours into its iron-ore mine at Malmberget, one of the world's largest such operations (only the mine at Kiruna is bigger). Helmets and boots are provided for the journey down to 1,250 metres below ground level, where giant machines scoop out the precious ore. Tours run on weekdays in June and August only – at the time of writing, tickets for the three-hour tour cost 300 SEK per person. Book at the tourist office in Gällivare (see below) or email them in advance.
Year-round activities
Walking trail around Gällivare
At Gällivare's tourist office, which is located inside the train station, you can grab a free map that highlights some of the town's cultural landmarks. These are arranged into an almost-circular walking tour (around 3km) that takes in the local church and the old school house, which now houses the town's museum. Two hours will allow plenty time for stops along the way.
Like what you've been reading? Get our best tips by email!