Gällivare's main church was built in the late 1800s, when it became clear that the town's first place of worship – a dinky wooden structure down by the river, and now the oldest building in the region – was becoming too small to cope with the growing population.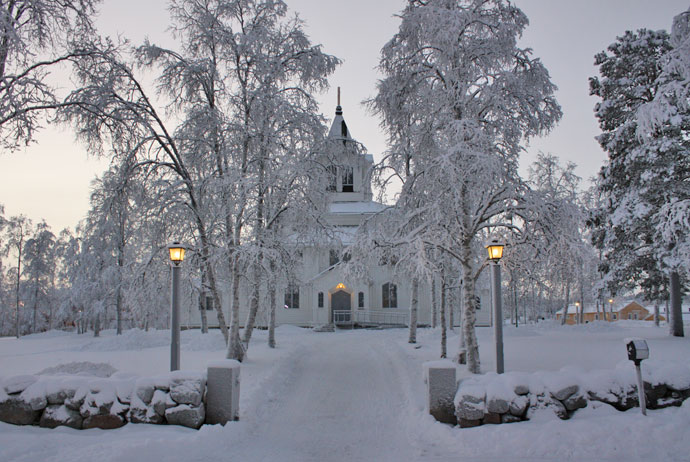 The replacement church is bigger, but still small compared with many others in northern Sweden. Set back from the main road and accessed by a birch-lined path, it's a nice-looking little building that's often blanketed with pillows of white snow.
If you find that the church is unlocked, it's worth taking a peek inside. The wood-panelled ceiling and atrium are impressive, and above the altar, a tapestry depicting the Sermon on the Mount adds a splash of colour to the mostly white interior.
The altarpiece from Gällivare's original church, a building that helped convert the area's Sami inhabitants to Christianity, was brought to the new church in 1882 and can be seen nearby.
You can visit Gällivare Church and its predecessor – often referred to as Lappkyrkan – on a pleasant 2km walk that takes in some of the town's architectural gems. Head to the tourist office inside the train station for a map describing the route.
Entry
Free
Getting there
The church is around 300m southeast of the train station along Lasarettsgatan.
Gällivare Church
Lasarettsgatan 10
Gällivare
+46 970 755 30
svenskakyrkan.se
Mon, Tues & Thurs 9am–4pm, Wed 1pm–5pm, Fri 9am–1pm.
Last updated: March 2015
Like what you've been reading? Get our best tips by email!